Tutankhammunity is a fan-site dedicated to Sphinx and the Cursed Mummy.
Tutankhammunity was created by an anonymous fan some unknown time around 2009. It was created using Webs.com, a free website creator. While the site's visitor count is unknown, it is known that the site's forums have over 100 users who used to post frequently about the game.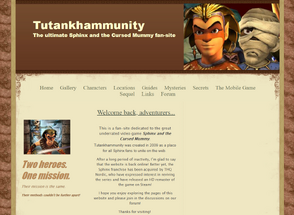 Appearance
Edit
The site features a sandy background and a tan text area. The header features an image of Sphinx and Tutankhamen on the right, with text on the left reading "Tutankhammunity: The ultimate Sphinx and the Cursed Mummy fan-site". The pages include "Home", "Gallery", "Characters", "Locations", "Guides", "Mysteries", "Secrets", "The Mobile Game", "Sequel", "Links", and "Forum".
The site was once one of the main sources for the Sphinx and the Cursed Mummy Wiki.
It seems that the site is an indirect partner of the wiki.
After years of being down and inactive, the website for Tutankhammunity is back up with a small message on the homepage reading: "After a long period of inactivity, I'm glad to say that the website is back online! Better yet, the Sphinx franchise has been acquired by THQ Nordic, who have expressed interest in reviving the series and have released an HD remaster of the game on Steam!"
Community content is available under
CC-BY-SA
unless otherwise noted.